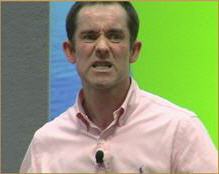 Progressive people within the business world are expected to present with power. Working with small groups or one to one, in the Advance Presentation programme, Steve uses his coaching skills to bring out the talent in you!
You'll come away able to:
create high impact presentations
ensure your message is understood
increase audience impact and action
improve your physical presence, look and feel more natural in the spotlight
deliver like never before
With his easy going personality, you'll warm to Steve as he boosts your confidence and makes you into a star performer!
Click Here to Book Steve