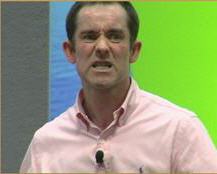 VIP Leadership will drive your company vision and mission forward. This is a results orientated programme which can be tailored to your organisation.
A highly interactive programme at the end of which you will:
have redefined the leadership role and have gained new insights into inspirational leadership
have identified your potential as a leader
recognise and use the talents of your people
understand the power of clear corporate vision
identify organisational barriers that might be inhibiting your business performance
have identified ideas to motivate your people and create a passionate workforce
Steve creates an instant rapport, essential for this type of course, which using reality based models, questions the traditional concepts of leadership and management. He'll challenge you to apply principles of personal effectiveness to organisational leadership.
Click Here to Book Steve
VIP Leadership will drive your company vision and mission forward. This is a results orientated programme which can be tailored to your organisation.
A highly interactive programme at the end of which you will:
have redefined the leadership role and have gained new insights into inspirational leadershiphave identified your potential as a leaderrecognise and use the talents of your peopleunderstand the power of clear corporate visionidentify organisational barriers that might be inhibiting your business performancehave identified ideas to motivate your people and create a passionate workforce
Steve creates an instant rapport, essential for this type of course, which using reality based models, questions the traditional concepts of leadership and management. He'll challenge you to apply principles of personal effectiveness to organisational leadership.
Click Here to Book Steve