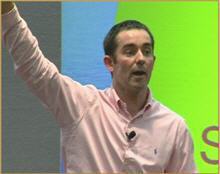 High performance Coaching is a process by which you allow an individual to discover their brilliance or talent. In the business world where more than ever there is a need to work to strengths, a coaching culture can reduce staff turnover and give great managers an option that they never had before.
Through this specialist programme:
understand motivational tools that you can adapt in your world
stretch your beliefs about performance
equip yourself with ways to stop limiting yourself and attain more than ever before
maximise your self-esteem
create more powerful feedback
learn how to lift people emotionally without even knowing their world
realise where coaching can help you with areas such as; problem solving, career development and performance improvement
Steve's approachable and upbeat style will encourage you to be candid, honest and receptive to coaching, enabling you to unleash the full potential in yourself and others.
Click Here to Book Steve